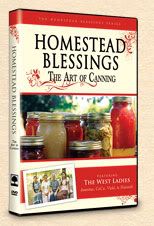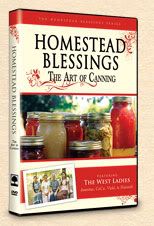 Franklin Springs Family Media is THE best when it comes to family films that are encouraging, uplifting, educating…we love 'em!  I have a 'hot off the presses' set of the new "Homestead Blessings" series on the art of Canning, Gardening and Herbs. They are WONDERFUL!!!!!  Hosted by the West Ladies, and their sweet, simple charm and they are so easy to learn from-I just love this DVD series….! 
So….would you like to win a set for yourself? You can, and it's SIMPLE. 
 If you'd like to win a copy of this 3 DVD Set….just post a comment here, with your first name and email addy….you're entered!  Want another chance to win……?  BLOG about this contest and get TWO more entries, just post your comment with your name, email and link!
 We're running this contest the until September 25th!  On that date, my handsome 2 year old son will draw a winner out of the ol' hat
  We'll post the Winner on the 26th!
Thanks for playing along….
Lisa